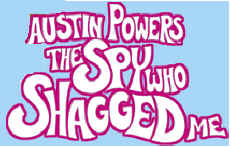 The Original Swinger, Austin Powers (Mike Myers), is back on a new case to find his "mojo" which was stolen by Dr. Evil. His mojo is sort of like his spirit and it is the source of all his powers. Dr. Evil's Big Boy has released him from his cryogenically prison in space. He plans to blow up Washington D.C. with a laser ray called the "Deathstar". Austin tries to save the world and get his mojo back just in time to shag his new partner Felicity Shagwell (the luscious Heather Graham).

The plot is not complicated and neither is the humor. It's just parodies of everything from James Bond to The Jerry Springer Show to There's Something About Mary and tons of sexual innuendoes. The Springer bit is one of the first scenes and is also somewhat placed during the credits. The episode is called "My Dad is Evil and Wants to Take Over the World". Scott Evil (Seth Green) is on their talking about his missing father, Dr. Evil (Mike Myers also) who shows up on the show. The real joke in this scene is the other families featured on the show; one is a Nazi and one is a Ku Klux Klan member. Like almost all Springer shows, there is a fight but this one is between Dr. Evil and the KKK member. Very, very funny.

Mike Myers takes on a threesome of roles. He adds to of his alter-egos Fat Bastard, a scottish villain who ones over one metric ton. Most of the jokes with this character are farts, his eating habits and causing earthquakes by just plain walking around. Myers doing Austin Powers this time was not as funny as last time because it seemed to get kind of old since the last movie. The freshness was missing. It's not a total loss but it's not all on the plus side either. Same jokes a little bit of a new spin. The jokes with the food and other objects covering and representing body parts was still funny though. Dr. Evil was as good if not better. He builds his time machine and goes into the past with his new sidekick/replacement child named aptly named Minime.

Mini-me is supposed to be exactly like Doc Evil only 1/8 of his size. They think alike, they act alike and in synchronization but Mini-me really doesn't even speak. He dances, he bites and he makes obscene gestures to everyone especially Scott Evil but he only really says one line. The line is features in another, really, brilliant scene in which Dr. Evil does his own version of Just The Two of Us by Will Smith. They also do a great scene involving a tent, Austin in a bent over position and Felicity is pulling things out of a bag which is positioned directly to the left of his butt. To the soldiers outside it looks like Felicity is pulling some huge objects out of Austin's butt.

There are really so many funny scenes in this movie that it could take 50 pages to write about most of them. I also don't want to ruin the whole movie for you then there would be no reason for you to read this ever again. There are some downsides, although few the force is with them. Heather Graham cannot act and she's even worse at comedy and improv. All she does is cheer Austin on. I wanted to strip her naked and put a muzzle on her. She wasn't that bad in Boogie Nights, but that movie was all about bad actors and cheap moves. She was nice to look at, not much to listen to. In one scene in which she and Austin are dragged away look for her outfit to change even though they didn't have time to change. Also a weak point in the movie were the scenes which featured Rob Lowe as a young #2 (Evil's second in command) in the 60's. He really wasn't that good. The repetitive jokes from the first one like one liners such as "Yeah, Baby", and "Shag" and the aforementioned interludes were bad. Also a dancing number involving Austin in a pool with a bunch of synchronized swimmers seemed boring and flat. Sometimes Myers tries to hard to make you laugh which is the case with many comedians such as Jim Carrey, Adam Sandler, and the biggest sinner in the case is the deceased Chris Farley.


Certain scenes, I laughed and cried (I cried from laughter), but I also got a little annoyed and bored at times. The first was more original but the Mini-me and the resurgence of Dr. Evil made this movie more enjoyable to me than the original. I give 3 stars and give it a high recommendation for a good comedy to check out.
Rating: 3 Stars/ 75 out of 100
Reviewed by Joe " Buscemifan" Soria on June 10, 1999.
Running Time: 95 minutes
Rated PG-13 for language, crude humor and sexual innuendoes.


Go To My Austin Powers info page for Links and other items.










Check out the Soundtrack.

Email Me- The comment box isn't working, drop me a line.

[an error occurred while processing this directive]