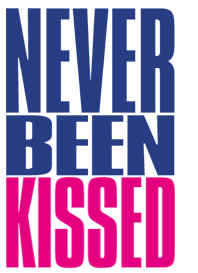 Buy The Soundtrack
Rated PG-13 for sex-related material and some drug content (I guess).

In Never Been Kissed one of the main character's Guy says something to the effect of I've made up a new cool word, rufus. Everything in the movie then becomes rufus. Well I have a few words (maybe not new ones) for this movie but I think I'll stick with an old classic, CRAP.

Josie Geller is a dorky but successful copy editor at the Chicago Sun-Times who really wants to be a reporter. She gets a job from her crazy boss (Garry Marshall) to go back to high school undercover. She doesn't get it because of talent but because she's young looking. Of course, she was a dork in high school and thinks this is a double good chance for her. She gets another try at high school popularity and she gets a try at reporting.

So she goes back to high school and is put through the usual stuff a new kid is put though. She is befriended by Aldys (Leelee Sobieski) and her group of nerds. Then one day her cool brother Rob (David Arquette) comes to the school, he is also not in high school. Instantly he becomes popular and starts to spread rumors about her like that she dated the drummer from Big Bad Voodoo Daddy. He is trying to make her cool. Of course Josie becomes popular and everyone who called her a dork falls in love with her and befriends her. The coolest guy in the school who happens to named Guy is crunching on her (he wants her). She becomes part of the in crowd of Libby, Kristin and Kiersten (who are the in crowd of bimbos). Sure, that really happens. She experiences the good life until prom in which she exposes the truth and everyone including her brother gets mad at her. But Josie also hurts her teacher Mr. Coulson, who she really loves. But he decides to leave what will happen to them. Who Knows ( well I know but I don't really care).

Let the fun commence. First of all Drew Barrymore looks just disgusting all throughout the movie, I'm convinced she is back on drugs. This script is just so bad. It is putrid, a waste, and formula.Besides that she's just not funny, she makes a fool out of herself. At least when Jim Carrey does it, there is some laughs The script is putrid, unassuming, formulaic garbage. The script was co-written by 2 people Abby Kohn & Marc Silverstein. There only previous credit is from some movie called Fairfax Fandago which I think is a short film with no actors. I wish I could have stood and watched the production of this movie and tell them "NO THAT'S NOT FUNNY" just like Barrymore who corrects everyone's grammar throughout the movie. That's everyone's dream but they should have someone do it. I think they do have script consultants but they must do nothing. The director only previous credit is Home Alone 3. It didn't really matter who made this movie because a 5 year could do it and 5-10 year old girl's are the only people who might like this movie (Let me stress MIGHT). I liked Wedding Singer and thought Barrymore was pretty good but this movie and Home Fries seem bug miscues in her career. She had 2 hits in Ever After and Wedding Singer. Barrymore said after this kiddy role she might go and do a villainous part. I think that's what I need because I'm all pepped out from her.

A bright spot in this otherwise waste of time was David Arquette, who was funny as the dumb brother. Garry Marshall was also good as the crazy boss. Molly Shannon who is somewhat funny here as Josie's best friend at work and has a very funny sex-ed scene. Sometimes you have to ask yourself why do some movies get made. The audience for this movie comes from teens and Barrymore, but this movie really uses neither to its advantage. The movie uses what you would call bathroom humor, grossout 8 year old humor with words like meanie It has no appeal to teens because it doesn't have the humor they deserve. I don't think movie will get good word of mouth and after a nice first weekend at the box-office, this movie better tumble down before I lose more faith in society. You would hope that the bad movies will bomb and the good ones do well but this is not the case. All of my favorite movies last year did poorly. The prime examples were Dark City and Out of Sight which really got recognized once on video. It seems in America that we like bad movies and we embrace them. Let me bring in here as a proof The Waterboy, Armageddon and Deep Impact which in my opinion were just real bad movies. If you want to see an ok teen movie check out the much funnier, hip and more suited for teen movie 10 Things I Hate About You.

The idea of the ending is good but I just hated this movie so much that I really didn't care. But besides her, Arquette and Marshall's performance a few chuckles this movie is just worthless. Folks this one gets 1/2 a Star out of four stars from me for for a few good performances and a few funny scenes.

Cast

Rated PG-13 for sex-related material and some drug content.






Buy The Soundtrack (It's got to be better than the movie)


GO BACK TO THE CRITIC'S HOMEPAGE



[an error occurred while processing this directive]

Copyrighted by Joe "Buscemifan" Soria© 1999.