Underworld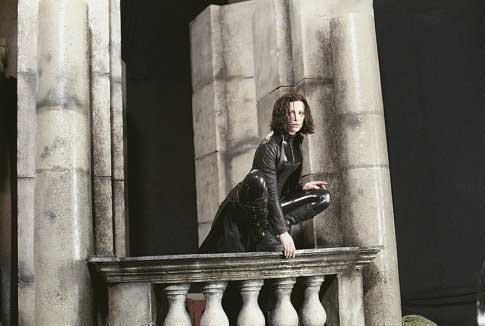 Kate Beckinsale vamping around.
Some movies try to be what they are not. This is not the case with Underworld, but what the film is is not much of one. Some uncleverly disguised melting pot of fable-like ideas of a war between two popular horror film genres. If this wasn't taken directly from some graphic novel, it might as well been. It's tone is very dark, serious, too serious in fact. The film takes itself seriously to a fault.
What the problem of this movie is hard to pinpoint? The lead performances by Beckinsale as a renegade Death Dealer / Vampire named Selene, and her love interest Michael, played by Scott Speedman are apt for the task at hand. But the emotional involvement and attachment to this movie is limited. It's a cold movie without feeling. Way too serious for its own good. The action sequences are also of an above average quality but moviegoers aren't just impressed by some flying and jumping. This movie is a few Blade retread without the quality, and definitely without the charismatic Wesley Snipes. This movie needed more charisma. There's no comic relief, there's not one laugh that could attempt to be made. There's just lots of oohs and ahhs with Matrix-like costumes
Underworld gives me a good cahnce to discuss an issue thats been stuck in my mind for a while now. Is it official that no action film can have a real ending unless its the third part of a trilogy. People go into these movies expecting an annoying ending which leaves a gaping hole for a sequel. Oh, Mr. Brilliant Filmmaker, you're movie was way too brilliant to make it in one part. Please don't bundle up too much into a movie. Make every movie as if it were the beginning of a trilogy or a series. Not every movie can be James Bond, and aren't kind of annoyed that Bond is still going strong. It's just a repetitve cash cow that adds in new toys in every movie to make it seem fresh.
A horror Romeo and Juliet story.
Starring: Kate Beckinsale, Scott Speedman, Michael Sheen, Shawn, Brolly
Written by: Danny McBride
Directed by: Len Wiseman
Rating: 1.5 out of 4 Stars
Reviewed by Joe Soria
Rated R for strong violence/gore and some language
Length: 121 Minutes