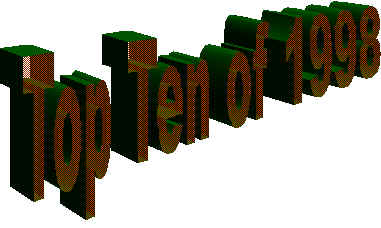 Criteria: The movie has to catch my attention for a performance or for direction or for a script or just overall. I rate movies on how much I enjoyed them. ( Green Links are links to official site.)
1. The Spanish Prisoner- A man (Campbell Scott) goes on vacation, when he gets back he is entangled in treachery. This movie was a huge puzzle to everyone who saw it. I love puzzles. This was so different it could have passed you by, but you should definitely not let it pass you by..
2. American History X- This movie is about a skinhead who goes to jail for killing a black man and comes out a changed person. While he was in jail his brother, followed in his brother's footsteps. This film is rough, tough, and smart. This movie had it all: strong characters, a good script, great cinematography and great acting especially by Edward Norton and Edward Furlong. At some times hard to watch. Definitely a movie that makes it's point about racism.
3. Your Friends and Neighbors- Another movie that is really rough. 6 people, 3 men and 3 women, they are all entrapped in a circle of sexuality. They talk about it, they have it, and they laugh about. A great follow up to my favorite film of last year, In The Company of Men, by Neil Labute. Another well written movie, I love movies that are well crafted and have great dialogue, this is a dialogue movie.
4. Dark City- A SCI-FI masterpiece that looks less like a movie and more like a dream. This movie made me yearn for more. my short little plot summary would not do it justice. Unlike the other movies, this movie was a visual movie instead of a dialogue movie. This movie is just so awesome. It's On video, rent it. Looks for all the intricacies. Watch it a few times, I did. Every time I saw something new. Another sign of a good movie.

5.Out of Sight - A slick criminal ( George Clooney) escapes from jail. He kidnaps a US Marshal ( Jennifer Lopez). They fall in love. He leaves her and she chases to find him. The movie is great in it's feel. The movie was just made so well, everything fit. You have some comic relief with buddies of Clooney like Ving Rhames and Steve Zahn. Extremely funny and smart. The way a movie based on a Elmore Leonard novel should be made( Jackie Brown wasn't good.)

6. The Thin Red Line- The best war movie of the year. All action with a good story. Some of the visions were repeated to often but that didn't take away from this amazing movie. Even with such a cast including Nick Nolte, Sean Penn, John Travolta, Elias Koteas, John Cusack, and George Clooney, Terrance Malick( the director) did not force too much dialogue. He didn't mess up great visions with dialogue, he let it flow. The war scenes were just as good as Saving Private Ryan, probably even better but Ryan had a dumb story with Saving one guy in a whole war.
7.Two Girls and a Guy- Two women ( Natasha Kinsski and Heather Graham) are dating one guy( Robert Downey Jr.) and they find out about each other when he's not home. They decide to make a pact and confront him together when they come back. They play with his already messed up mind. He has an obsession with his sickly mother. A part that is perfectly played by Downey. The whole movie takes place in one apartment and outside of this apartment. The movie is also a talking movie but a great and talking movie. On a side point, He is doing the psycho thing again in In Dreams but a killer psycho looks like a cool movie.

8. Truman Show- Truman ( Jim Carrey) is trapped in a little world where everyone except him is an actor. He starts to figure it out. This movie was a great idea also. I loved watching this movie play out. Jim Carrey was really good in it and Ed Harris was great as the bad guy who is controlling Truman's World. I also saw Pleasantville (My Review) which I found to be slow repetitive and extremely weak unlike this strong and very good movie.

9. Pi- A movie of obsession. Max Cohen is obsessed with finding the full number of pi. He believes when it is cracked it will give new insights and secrets. Other people are after him because they think he broke the code. Stock brokers think it will show the path of the stock market, and the Jews want him because they think it is the insight into the g-d. He also has headaches and dreams. This dreams are sick and awesome. Some of the coolest stuff in years. This is a black and white SCI-FI film and it kicks ass. It's out on video also rent it. I think it's on DVD also. Check this one out.

10(Tie). Clay Pigeons- Vince Vaughn is a roaming killer named "Lester The Molester" in the Midwest. Vince Vaughn plays a great killer. Joaquin Phoenix is the guy whose life he destroys and Janeane Garofalo, plays the city cop who is on the trail of Lester. This movie was just an awesome movie. He ruined his life so well.Unlike Vaughn's latest movie, Psycho, this movie was awesome and quirky and funny. A perfect serial killer movie and definitely worth seeing.
10(tie). There's Something About Mary- Most of the country saw this hilarious movie during the summer. A sick disgusting movie which became the talk of the country. Everyone including Ben Stiller is in love with Mary (Cameron Diaz). She is perfect, she's beautiful, smart, rich and likes sports. She doesn't have good luck with men because all the men get rid of the other men in contention, so no one can date her. This movie is so funny, but you all probably know that. Definitely one of the funniest in the last 20 years.

10(tie). Shakespeare in Love- A very smart movie about how William Shakespeare came to write Romeo and Juliet. Shakespeare (Joseph Fiennes) is having money troubles, his last few plays have done bad and he has writer's block. He needs to write a play but he has no ideas. He falls in love with a beautiful rich woman ( Gwenyth Paltrow). Their romance breaks Shakespeare's writing block but gets him into a whole bunch of trouble. This movie was ingenious and very smart. The scenery was great and Judi Dench was good as Elizabeth I.
Honorable Mention (pretty much in order, I know it's a lot): A Simple Plan, Elizabeth , Life is Beautiful, Saving Private Ryan, Great Expectations, Love and Death on Long Island, The Big Lebowski, Zero Effect, Dangerous Beauty , The opposite of sex, Blade, The Wedding Singer, Bulworth, A Civil Action, Primary Colors, Wild Things, The Negotiator, Fear and Loathing in Las Vegas, Patch Adams, A Bug's Life, Rush Hour.