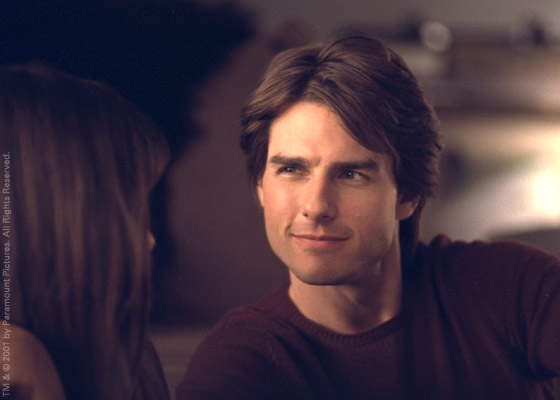 Copyrighted by: Paramount Pictures
Vanilla Sky

Tom Cruise and Cameron Crowe, the team that brought you Jerry Maguire, reteam for a psychological thriller based on the spanish language film Abre Los Ojos (Open Your Eyes), a film that deals with the intracacies of the mind and the perception of reality. Cruise plays a hotshot magazine editor in New York whose seemingly perfect life is pulled right from under him. From the turning point, the film is filled with what the Crowe must have expected to be unexpected twists, full of quick cuts and flashes intended to confuse. They do it well, so well that it takes away from the quality of the movie and is detrimental to the story and the characters. The look of the product in this case is much better than the actual product.

Fine performances all around but Cruise shouldn't expect much Oscar buzz from this film, it was much more deserved for his role in Magnolia last year (which he should have won the Oscar for). Crowe shouldn't expect the type of consideration his film Almost Famous recieved last year either. At points the film is stimulating, but most of the time its mentally dulling. Still, it may be worth your time for some of the cool visuals and to see Penelope Cruz comlimented by an excellent soundtrack featuring great songs by Radiohead, R.E.M., Peter Gabriel, Sigur Ros and many more. I'd advise you to skip the movie and by the soundtrack.
Rating: 2 out of 4 stars
Reviewed by: Joe Soria
Running Time: 135 minutes
Rated R for sexuality and strong language.
Starring: Tom Cruise, Penelope Cruz, Kurt Russel, and Jason Lee.
Written and Directed by: Cameron Crowe (Jerry Maguire and Almost Famous)


Donnie Darko

To round out a day of weirdness, I watched the quirky little film starring Jake Gyllenhaal. I went into the film knowing basically nothing but this darkest of dark comedies really got me going. It is easily one of the best dark comedies I've seen in an while, a dark comedy with a little heart, not exactly the type of film you'd expect from Flower Films (Drew Barrymore's production company).
It's 1988. Donnie (Gyllenhaal) is a very troubled yet highly intelligent high school student with sever mental problems who one day gets a visit from an extra terrestrial being that makes him do things. Jena Malone (from that movie kid's movie with the seal Andre and this year's Life as a House) plays his odd, yet intriguing love interest. Drew Barrymore and Noah Wyle play teachers in the high school that try to reach out to Donnie at this conservative institution of learning. Patrick Swayze makes a funny little cameo type appearance, much like Tom Cruise's role in Magnolia as a mass marketer of positive energy through motivational video tapes. It's unpredictable, it's humorous, it's zany, and it's sad. A small movie that hopefully will achieve some underground following on video. An astounding achievement by first time feature director Richard Kelly.

Rating: 3 out of 4 stars
Reviewed by: Joe Soria
Running Time: 112 minutes
Rated R for language, some drug use and violence.
Starring: Jake Gyllenhaal, Jena Malone, and Drew Barrymore.
Written and Directed by: Richard Kelly
Check out this wonderful Soundtrack featuring tracks from R.E.M.,
Paul McCartney, Bob Dylan, Peter Gabriel, Radiohead and many more.