A Review by Joe Soria

A story about time, friendships and homo eroticism. That's a one line plot description for the feel good stalker film of the year, Chuck and Buck.

Two boys were best friends when they were 11, Chuck and Buck. Chuck moved away, Buck never forgot Chuck. 16 years later, Chuck is now Charlie, a LA record exec but Buck is still the same. He wants play games with Chuck like they used to when they were younger.

Buck's a little slow, a boy in man's body with a whole lot of idiosyncrasies. When Buck ventures to California to met up with his old friend Chuck, he is disregarded. Chuck is preoccupied with his fiancée. Buck explores his options of getting through to Chuck. He writes a play in a matter of days so Chuck will come. He makes him gifts but Chuck is still ignores him.

Chuck and Buck is harsh tale of conflict in time interpretation. Bucks thinks no one changes, Chuck thinks no one stays the same. It's hard to get through to Buck, he's stuck on his own ideas. Mike White brilliantly portrays the abandoned and pale Chuck. He is perfect, his smile, his facial expressions, his reactions.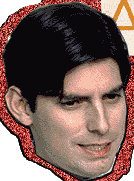 <-- Chuck (Chris Weitz) looks like Christopher Reeve.

A film shot fully on Digital Video that perfectly compliments the grainy,dark characters. Buck has things to learn and through his attempt to reconnect with his only friend. Chuck is well portrayed by Chris Weitz, who happened to be part American Pie creation process. He looks eerily like Christopher Reeves with more protruding teeth. His performance is very complimenting to White's powerhouse performance

I don't want to describe the scenes but trust me when I say that the movie is very emotional and at points heartbreaking. You truly feel bad for Buck no matter what he says. You know he know no better. A boy stuck in a man's body, sort of, that is always sucking on a Blow Pop no matter where he is. He's not treated right by anyone. The film is not for the weak stomached. The dialogue is straightforward and in your face. A film in the true spirit of independent.

Main Stars: Mike White, Chris Weitz, Mike Weitz
Director: Miguel Arteta (Star Maps)
Writer: Mike White (Dead Man on Campus, Freaks and Geeks (TV) )

Rating: ***1/2 out of ****
Reviewed by: Joe Soria
Running Time: 96 mins
Rated R for language and sexuality.

Email me your review of my review. What did you think? I wanna hear it.