LIFE


Sometimes you'll see a movie with excessive promotion and previews and think what's the point of seeing this movie,everything is in the previews. With this movie you'd be pretty right but still the preview was only funny the first five times I saw it. This movie overall is a funny movie and not a real big waste of time.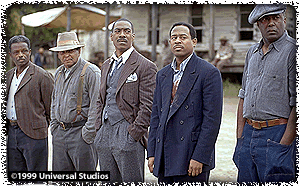 Eddie Murphy and Martin Lawrence go to the farm in Life.
It's Harlem circa 1932 and Eddie Murphy plays Ray, a run of the mill hustler/lowlife of the streets. One night Ray goes into Shorty's. Claude is at Shorty's on a date with his girlfriend. He's goes the bathroom and is greeted by some thugs who take all his money. He has just gotten a job at a bank. Murphy who pretends to be an old buddy of his then takes his wallet, with no money in it. Both of them are in trouble. Murphy is from taking some of Shorty's business and Lawrence for not paying his bill. Shorty and his men bring them to the docks to kill them. Murphy strikes a deal to drive to Mississippi to get some cases of moonshines (an alcoholic drink which is illegal as all alcohol is at this time) for Shorty. Seeing that Claude is going to get a killed, Ray asks if Claude could go with him. Shorty agrees. Claude blames Ray for getting him into this, he just wants to get back to New York in time to start his new job. They make it to Mississippi, get the liquor but Ray wants to have some fun. He convinces Claude to go to a club with him for some drinks and some gambling. Ray is cheated out of all their money. Now, they can't get home. So they are wandering around late at night when a dead body falls on them. they are framed for murder by the cops, who really did it. Ray and Claude get life imprisonment. This doesn't sound that funny, well it really isn't. It is rather sad. The rest of the movie just follows them through the rest of their lives in prison. They try to escape, try to intimidate the rest of the prisoners. These parts are pretty funny even though they are in jail. Well they actually aren't in jail, there on a work farm.

There are many funny scenes in this movie in the prison. They have all the stereotypical characters. A gay one, a big bully one, and the man who can get you anything you need plus they have a mean warden played well by _______. There are some very funny parts and there are some more dramatic ones. The sad overtone does take away from much of the comedy in the movie. Eddie Murphy and Martin Lawrence are both very good here. The best part in the movie though is the last 1/2 hour or so when Murphy and Lawrence are really old. The makeup is great, they really did an amazing job in turning 35 year olds into 80 year olds. This movie is moderate. The feel of the
movie is nice even with the movie mostly taking place in jail. Many times you might forget they're in jail which are the best parts of the movie but then the reality in the movie resets itself. Bokeem Woodbine had a nice, little part as Can't Get Right. Even though he was mute and didn't make a peep, the scenes he was in were my favorite of the prisoners early years.

There are two very good scenes in this movie though that put it above average for me. One scene is when Murphy is describing his dream club, Ray's Boom Boom Room. All the inmates are happy and are having a great time as Ray tells them all about what they are doing in the club. I guess you have to see to know what I'm talking about. The other scene is at about the 2/3's mark in the movie when the show all the prisoners, disappearing either from release or death, I thought it was very well done. 2.5 stars out of 4 for this one for a good story with some good performances especially out of Murphy and Lawrence.

| | |
| --- | --- |
| | Martin Lawrence and Eddie Murphy 40 years into their prison sentence. |
Email Me

since April 24, 1999
Other New Reviews:
Life by Shaun
Never Been Kissed by buscemifan
A Walk on The Moon by Shaun
Cookie's Fortune by Shaun
Go by Shaun
Go by Buscemifan
The Matrix by buscemifan
The Matrix by Shaun
EdTV by buscemifan
EdTV by Shaun
Forces of Nature
Analyze This
True Crime
The Corruptor
Rushmore
Payback
Gods & Monsters
Affliction
The Rage: Carrie 2

GO BACK TO THE CRITIC'S HOMEPAGE